The Houston housing market, despite facing challenges from the pandemic and rising interest rates, is showing signs of returning to a more normalized state. While home sales in Greater Houston have been on a decline for 16 consecutive months as of July 2023, the rate of this decline is the smallest we've seen in over a year. Normal is the new normal. Norhill's Key Insights from the Houston Association of Realtors (HAR) July 2023 Market Update: Single Family Home Sales: Sales decreased by 8.5% year-over-year, with 7,557 units sold in July 2023 compared to 8,256 in July 2022. This decline is the smallest since June 2022, which saw a 7.6% drop. When compared to the pre-pandemic era in July 2019, sales were down by 15.3%.  The housing segment below $100,000, which represents a mere 1.2% of the market, was the only segment to see a gain. All other price segments experienced declines, with homes priced over $1M seeing a decrease of 2.6%. Townhouse/Condominium Sales: This segment experienced a 9.8% decline year-over-year, with 590 units sold in July 2023 compared to 654 in July 2022. The average price for this segment increased by 2.1% to $263,876, while the median price decreased by 2.2% to $220,000. Home Pricing: The average price of single-family homes saw a minor increase of 0.6% to $428,140. However, the median price experienced a decline of 2.3% to $340,000. These figures remain below the record highs observed in 2022. For a broader perspective, July 2023's median price of $340,000 is a significant 36.0% increase from July 2019's $250,000. The average price has also risen by 37.3% from $311,895 in 2019.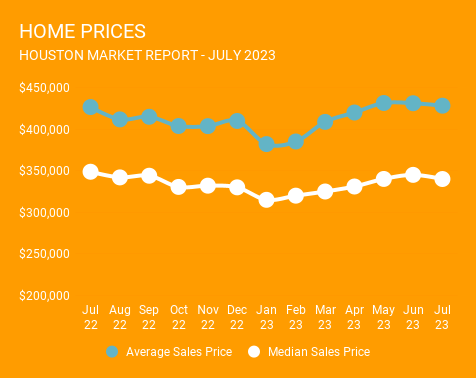 Inventory Levels: The months supply of homes in July 2023 was 3.2, the highest since May 2020. This is slightly above the national average of 3.1 months, as reported by the National Association of Realtors (NAR). A supply of 4.0 to 6.0 months is generally considered a balanced market.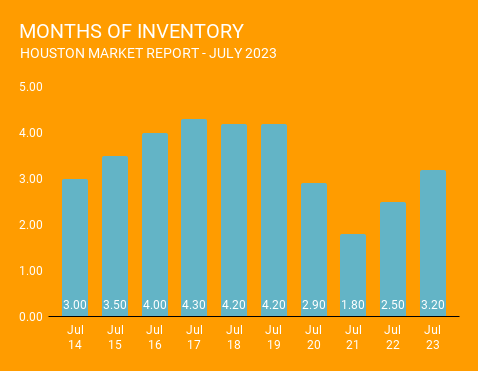 Likely to Sell: According to HAR, total active listings, or the total number of available properties, increased 13.2 percent to 37,079. July sales of all property types totaled 9,223 down 8.3 percent compared to July 2022. As a result, the absorption rate, which is a measure of any given home's likelihood to sell, for June 2023 was 25 percent. When compared to Junes over the past 10 years, this is a pretty healthy absorption level, which should continue to help stabilize prices.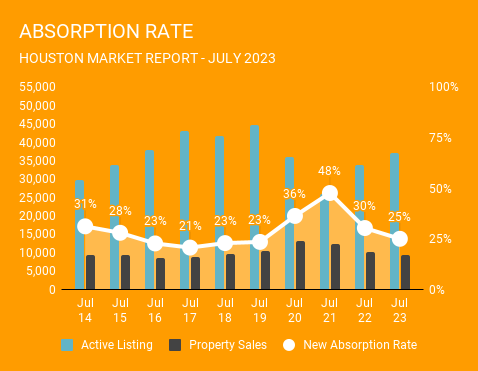 Days on Market: The time it took to sell a home increased from 27 days to 42 days in July 2023.
Despite the challenges, the Houston housing market is showing resilience and signs of stabilization. Whether you're looking to buy or sell, it's essential to stay informed and make decisions based on the latest market trends. Connecting with a local realtor can provide valuable insights tailored to your needs and contacting one of Norhill's amazing Realtors is a good place to start. They can guide you through the market trends in your desired neighborhoods and advise on the best times to buy or sell. Fill out the form to get started.

GET MATCHED WITH AN AGENT
Norhill Realty and the MLS does not verify the information provided and disclaims any responsibility for its accuracy. All data is preliminary and subject to change. Twelve-month totals may vary from actual end-of-year figures, due to individual changes to MLS records. This data is for informational purposes only and should not be the sole piece of data used in the evaluation of a buy or sell decision. Consult with one of our Realtors to evaluate any particular property so you can determine how the market relates to that property.