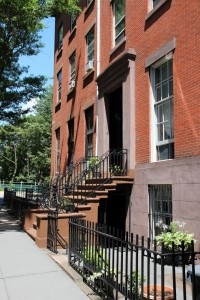 With all of the tools available online and off for finding your new home, you can spend lots of time thinking about the type of house you want, planning how many bedrooms, what type of flooring, what appliances come with the kitchen, and if it has a fireplace. But... before you get that far, perhaps you should stop and consider the neighborhood you want to live in first. You can find the perfect house, but if it is in the wrong neighborhood, it can be like a badly fitting shoe: very stylish, great to look at, but so uncomfortable you rarely want to wear it.
Figure Out What You Want
Start by making a list. In the first section, write down what is important to you now about where you live. If you are single, it might mean access to activities, nightlife, colleges or universities. Determine how long of a commute you prefer, if public transportation is necessary, or if parking is important. For many people, living in the perfect home in the perfect neighborhood means a longer commute, or extra expenses for a vehicle and parking. It may be worth it to you, but make sure you actually consider its impact on your lifestyle.
Do you care if your home is in a walkable area? Check out a potential neighborhood's walkability. If you prefer easy access to shopping, that eclectic coffee shop or local eateries and other amenities, don't fall in love with a house in a neighborhood that requires driving to everywhere. You'll love the house, but won't spend much time there. On the other hand, if you like a quiet, rural setting away from the noise and bustle of the city, that beautiful old Victorian might not work for you. Older homes tend to be nearer to the center of the city with its accompanying sounds, traffic and narrow streets.
Determine What You Don't Want
Along with what you desire in your neighborhood, make sure to determine what you won't or can't live with. So check out crime statistics, sex offender registries, and search on "noise pollution" and your city's name to see if your potential neighborhood has noise levels rated. If you work from home and need quiet, make sure to check out potential neighborhoods for daytime noise. If you need quiet to sleep, make sure there are no factories with night shifts, or all-night clubs in earshot.
Plan For the Future
A home purchase isn't just about what you want today, it is about what you want tomorrow and next month and next year. Living out in the country or on a hillside is great in the summer, but do you want to plow snow from your half-mile long driveway to get to work in the winter? Choosing a hip urban neighborhood is great for today, but what if you have a baby in a year or two? Will late-night music drifting from the local hot spot keep her up all night?
Talk to a Professional
We're here to help you through all these details, so talk to us before you fall in love with that ill-fitting shoe. We'll show you how to find the one that fits perfectly.